40 Yard Dumpsters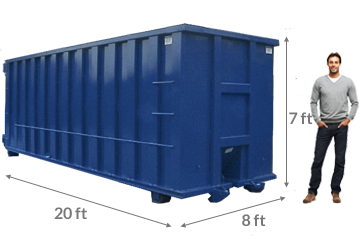 Commonly used for:
New construction projects
Extensive home renovations
Commercial roofing
Home additions
Summary:
40 yard dumpsters are generally 20 feet long, 8 feet wide and 7 feet tall. In volume, this dumpster size matches the hauling capacity of 12 pickup trucks. In most cities, these are the largest dumpsters available for rent. Their exceptionally large size makes them a popular choice among construction contractors and demolition crews. Common residential projects include window/siding replacements, interior home renovations, and additions.
Utility:
40 yard dumpsters are the largest waste containers offered by waste management companies. Their use is most beneficial for large construction and demolition projects for the disposal of common building materials such as drywall, wood, metals, tiles, and carpeting. It should be noted that 40 yard containers cannot be used for the disposal of heavy debris including concrete, asphalt, brick, cinder blocks, and dirt. These materials can add significant weight to a dumpster of this size because of its large volume. A fully loaded 40 yarder containing heavy materials will be too heavy for the roll-off truck to pick up, requiring the removal of all the debris from the container.
Apart from construction and demolition, one of the most common applications for 40 yarders is commercial roofing projects. Unlike smaller roofing jobs for homes and small businesses, commercial roofing projects can take weeks to finish and require the disposal of several tons worth of roofing materials ranging from adhesive panels to metal supports. The sheer size of the dumpster allows for several tons of debris to be thrown out, with most dumpsters of this size carrying a weight limit of 6-8 tons.
Outside of commercial projects, the 40 yarder is ideal for a variety of residential projects such as renovating a large home or building an addition onto a home. The amount of debris left over from a home renovation varies with the size of the house, requiring a different dumpster for each unique project. Generally, home renovations and additions that encompass more than 2,000 square foot will require the use of a 40 yard rental. Larger renovations will result in larger amounts of bulky materials requiring a bigger dumpster to handle all of the debris. However, if the renovation also includes the disposal of household debris, a separate container must be rented as construction debris (renovation & addition debris) must be disposed of separately from such items as furniture or appliances.
Placement:
Due to their large size and heavy weight, 40 yarders can be challenging to place in areas that are narrow and lack extra space. Deliveries to homes and other areas will generally require the use of a driveway or another suitably paved surface where the dumpster can remain for a prolonged period of time. Most 40 yard renters will keep their bin on site for an extended period of time as these dumpster sizes are generally used for long-term construction and demolition projects. For this reason, the dumpster should be kept in an area that will not become obstructed by either debris or construction equipment.
As with the 30 yard dumpster, be sure to mention if the work site in question has any low hanging wires or branches that might pose an obstacle to any delivery attempt.