30 Yard Dumpsters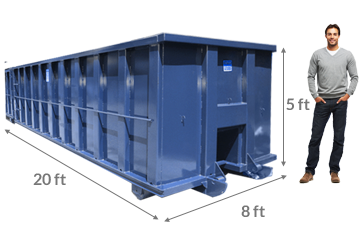 Commonly used for:
Large home/office cleanups
Home renovations
Landscaping
Medium-Large Construction Projects
Summary:
30 yard dumpsters are generally used for larger commercial projects that last for several weeks or months. Most 30 yarders are built to a length of 20 feet and a width of 8 feet, with a height of 5.25-6 feet depending on the manufacturer. These dumpsters can hold approximately 9 pickup trucks worth of debris. The additional height allows for the disposal of bulkier materials such as large appliances, furniture, and large volumes of C&D materials. Extra caution should be observed to ensure that no low hanging wires or tree branches are in the way of the delivery truck due to the additional height of the container.
Utility:
30 yard dumpsters are ideally suited for commercial projects ranging from demolition to store builds because of their large capacity and higher walls. They can easily contain items that would be hard to fit within a smaller unit, such as office furniture or tree branches. Its larger size also allows for the disposal of large volumes of municipal solid waste making it a good choice for residential projects such as hoarder cleanups or clearing out foreclosed homes.
For that same reason, the 30 yard dumpster is frequently used for clearing out offices. A lot of older offices and corporate buildings contain desks, chairs, conference tables, cubicle partitions, and old appliances. All of these items can easily fit inside a 30 yard roll-off dumpster without requiring the renter to have it emptied out several times over the course of the clean out. Of course, this can vary based on the overall size of the office.
For landscapers, the 30 yarder is favorable both because of its large hauling capacity and ease of use with common landscaping equipment. Backhoes, bobcats, and other loaders can easily load up the dumpster with dirt, yard waste, and other landscaping materials. However, not all haulers will allow dirt and similar debris to be placed in the 30 yard dumpster. Dirt is generally treated as heavy debris which means most haulers will restrict its disposal to 10 yard dumpsters. This helps prevent the renter from exceeding the weight limit of the dumpster which might cause problems for the hauler if the roll-off truck cannot lift the dumpster up.
Placement:
30 yard dumpsters share the same basic dimensions as 20 yarders so regular placement guidelines apply. However, due to the additional 2-3 feet of height renters should take extra precautions to ensure that no low hanging wires or tree branches are in the way of the delivery truck. The trucks used to deliver 30 yard containers add ten or more feet, which can become a hazard once a 6 foot high dumpster is loaded on top of it. If there are any possible obstructions in the way of your driveway or work site be sure to notify the hauler ahead of time. Otherwise damage may occur to both the property and the delivery truck.