10 Yard Dumpsters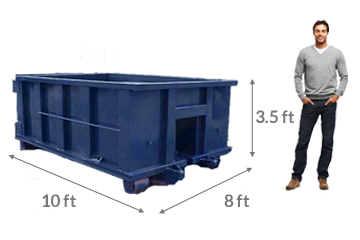 Commonly used for:
Light remodeling
Heavy construction & demolition debris (with appropriate weight limit)
Yard cleanups
Garage cleanouts
Spring cleaning
Summary:
The smallest roll off dumpster available in most cities is the 10 yarder. In general, these containers are 10 feet in length, 8 feet wide and 3.5 feet high. The walls of these containers will generally come up to a person's chest or shoulders, making them very easy to load. The 10 yarder's smaller size also makes it ideal for work sites that are low on space or for homes that have a short driveway.
Utility:
In general the 10 yard dumpster is suited for small scale work, such as limited home remodels or even yard cleanups. However, they can be just as useful for removing heavier construction materials such as concrete or asphalt. Most companies will offer two different weight limits for these dumpsters, one for municipal solid waste and another for heavy debris. The reason behind this is that the shorter walls and overall volume of the 10 yarder will help prevent it from being overfilled with heavy materials. The upper weight limit for most roll off trucks is 10-15 tons, and attempting to lift a dumpster that is weighed down by an exceptionally large load of concrete or other dense materials can damage the truck.
In regards to residential projects, the 10 yard dumpster is ideal for cleaning up items from around the home such as furniture or boxes containing various odds and ends. In fact, most residential renters use the 10 yarder for general cleanups of the attic, basement, and garage. All three of these rooms are used as storage areas in the average household, which makes them prime areas for clutter to form such as appliances, furniture, toys, clothing, and other assorted goods.
Placement:
For a 10 yard dumpster, you won't have to rearrange your work site or driveway just to get it placed on site. Since these containers only take up a space as large as 10 feet x 8 feet, you can fit these containers practically anywhere. If you plan on using the dumpster for projects around the house you can have it easily placed in your driveway without disrupting your usual parking space.
As for work sites, you can have the container placed just about anywhere on site so long as it is easily retrievable after delivery. Commercial users should also make sure that they are able to place the dumpster on a paved surface, rather than dirt or grass. Paved surfaces are a general requirement for dumpster rentals, but it is especially important when renting a 10 yarder for heavy debris. Since materials such as concrete and brick are a lot heavier than regular trash they can easily cause the dumpster to sink into the ground if it is not placed on a paved surface. So make sure you have a large enough paved area available on your property or work site if you need to dispose of heavy debris.