20 Yard Dumpsters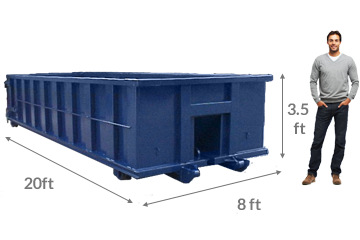 Commonly used for:
Mid-sized home remodels
Roofing & HVAC work
Small construction projects
General waste removal
Summary:
20 yard dumpsters represent the workhorse of the dumpster rental industry. They are a very common dumpster size because of their mid-range specifications, with a length of 20 feet, a height of 3.5 feet, and a width of 8 feet. They are very popular for long-term projects, such as light construction, as they are big enough to handle large quantities of debris without taking up too much space.
Utility:
20 yard containers are a favorite among roofers and general contractors because of their lower cost and extra room. In many cases, projects will kick off without an accurate account of how much debris will need to be removed over the course of the project. By ordering a 20 yard container at the outset, contractors can hedge their bet by getting a dumpster that is cheaper, but still provides an adequate amount of hauling capacity to get the project rolling.
20 cubic yards is essentially equivalent to 4 pickup trucks worth of hauling capacity, making it an ideal choice for medium-sized home remodels. The dumpster is not so big that it becomes a problem for the homeowner, nor is it so small that it constantly needs to be emptied out. This dumpster can hold a variety of wastes from remodeling projects such as drywall, wood, wiring, carpeting, plumbing elements, and various household appliances. Granted, a larger dumpster may be warranted if you have to dispose of all of these materials at once. A complete home remodel will require this particular size dumpster to be emptied at least once or twice, but it is a good all-around size for most light-medium remodeling work.
Outside of residential areas, the 20 yard container works great for commercial projects including demolition, retail construction, office renovations, and more. However, long-term commercial projects might not be suited for a 20 yarder due to its smaller volume, especially when larger sizes are available from the same hauler. Some waste management companies will offer one 20 yard dumpster for regular waste and another for heavy debris.
For renters who are working on a general waste removal project, the 20 yarder is going to be the best option. Usually, renters are not sure how much debris they will need to throw out which leaves open the possibility of overfilling a 10 yarder or under filling a 30 yarder. The 20 yarder fills the gap between these two extremes, allowing the renter to get rid of their trash without having to spend more on either another dumpster or a larger container altogether.
Placement:
Placing a 20 yard dumpster on a work site or in a driveway is a little bit trickier because of the added length of the container. Renters must account for a dumpster that is 20 feet in length and 8 feet wide, which may or may not pose a problem for homeowners with shorter driveways or work sites that are short on space. In general, the best placement option for a 20 yarder will be as close to the project site as possible while still being accessible to the roll-off truck. If the project site includes a parking lot the renter should considering using it as a delivery spot to free up room around the work area.