There are many kinds of roofers who work with different types of roofing materials. There are shinglers, who work with shingles, tiles and other nail-on products commonly used for residential roofing. Roofers who specialize with metal panels, and others who work with single-Ply, foam and tar-based products. All roofers have one thing in common. They will all need a dumpster on their worksite. Here is a guide that will help you during the rental process for roofing materials.
The Type of Roofing Materials Matter
Keep in mind that the types of roofing materials will determine the size of dumpster you will be renting and the weight of the dumpster once it is filled. If you are working with shingles, you will most likely be using 3-tab shingles or architectural shingles. These two shingles are different in size and weight.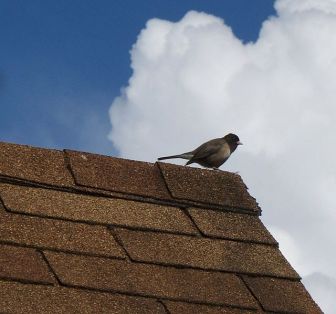 Calculate the Number of Shingles or Amount of Debris
Being a roofing contractor, you will know the size roof you will be working on. Determining how many shingles you will be replacing will help you with the process of choosing the right dumpster size. Also remember the amount of debris you have will determine the weight of the dumpster. Many rental companies have a weight calculator on their website to help you estimate the weight of your materials and debris.
Tip: Avoid overage fees by asking the dumpster rental company about the unit's tonnage limits.
Separate Roofing Shingles for Recycling
During the rental process, make sure to ask the rental company if you need to separate the roofing materials. Some companies tell their customers to separate the shingles from other debris for recycling purposes. Believe it or not, many roofing materials can be recycled. For example, asphalt shingles can be reused to patch up potholes as well as fresh asphalt pavement. Concrete shingles can be used as gravel for road construction or can be created into new concrete. Metal roofing panels can be melted down and used as new metal panels.
Tips to Save Money
Call multiple dumpster companies to see who has the best deals.
If you are unsure on what size to rent, always go with the bigger size. You will have a lower chance of receiving overage charges or needing another dumpster.
If you rent a dumpster on a regular basis, try asking the rental company if they will give you a discount. If you are a loyal customer, most companies will jump at the chance.
**Please note that the cost to rent a dumpster will depend highly on your geographic location, container size, duration of the rental and weight allowance.
We hope this guide will help you during the rental process for a roofing project. We noted only a few important aspects of the process. If you have any concerns about the dumpster size or weight limit, don't hesitate to ask your dumpster rental company. They will make sure to address any of your questions or concerns.
Tags: roofing shingles, rental process, roofing contractors