As you have learned on our website and a couple of our blog posts, there are many differences between a temporary and a permanent dumpster. Four main differences of these categories of dumpsters include where the dumpster is typically located, the debris disposed in the dumpster, who commonly uses the dumpster and the size of the dumpster. In this post, we will discuss popular uses of temporary dumpsters for contractors and homeowners as well as the common debris that would be disposed by them.
Contractors
Temporary dumpsters are an essential piece of equipment for contractors such as roofers, landscapers and construction workers. However, those three professionals dispose different refuse.
If you specialize in roofing, you will be disposing of either shingles, metal panels, foam, or tar-base products. No matter what type roofing project you are installing, there will most likely be refuse scattered throughout the site. Temporary dumpsters make it possible to organize all of the unwanted roofing materials in one area. A popular roofing material used for residential roofing applications is asphalt shingles. When asphalt shingles are disposed in dumpsters they can be recycled to create roads.
Landscapers dispose a number of materials in temporary dumpsters. Some debris may include tree branches, leaves, dirt and plants. If landscapers are working on a demolition project they would need a temporary dumpster to store the trees, stumps and shrubs. With the amount of different materials that would need disposal, the size selection of temporary dumpsters make disposing easy for landscapers.
Construction workers is such a broad term, which also means the materials they dispose of can be unlimited. Some materials may include concrete/asphalt, grass and dirt, to excavate and fill trenches and ditches, wood and steel, to construct buildings. An open-top container makes dumping these debris very convenient for construction workers.
Temporary dumpsters make it possible for these three professions to properly dispose of their unwanted materials.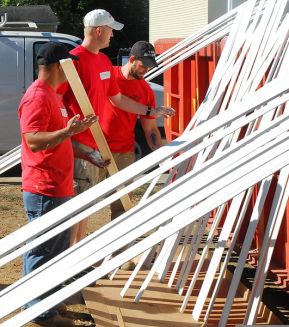 Home Owners
If you are a homeowner you may not realize how you can utilize a dumpster until you are in need of one. To some extent, homeowners and contractors dispose the same unwanted materials.
A common project for homeowners may include remodeling a bathroom or basement. If that's the case, you will have many unwanted materials scattered throughout the room. As you learned in this segment, temporary dumpsters are capable of holding multiple materials. So if you have drywall, tiles or wood, temporary dumpsters are your best source for proper disposal.
If you are revamping your backyard, a temporary dumpster is useful as well. You can use this dumpster the same way a landscaper would. All of the unwanted stumps, plants and trees can make disposing hassle free. A homeowner has a variety of sizes to choose from that can adequately handle large quantities of debris without taking up too much space.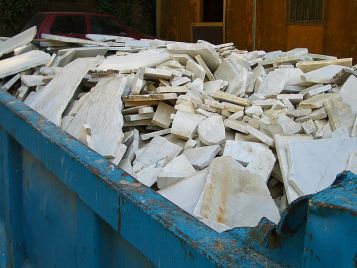 These are just a few examples of how contractors and homeowners use temporary dumpsters. Temporary dumpsters are not only versatile in their disposing capabilities, but also attract people of different professions.
Tags: Temporary Dumpster, Debris, Contractor, Homeowner