A dumpster is a ubiquitous object that many people do not find the need learn about. It's a dumpster, all you need to know is you throw trash in it, right? Well until you are in the need for a dumpster, they will all look the same to you. However, there are two categories of dumpsters to choose from. And you will learn these two dumpsters are for totally different uses.
The first dumpster type is one you probably see every day and you don't even realize it. This dumpster is referred to as a permanent dumpster. These are typically found behind office buildings, grocery stores, retailers and restaurants. These dumpsters come in 2 yards, 4 yards, 6 yards and 8 yards.
A permanent dumpster usually entails placing it on your property for a contracted time period, usually six months to a year. Depending on the type of business you have, this dumpster will be emptied every day or on a monthly basis. These are specifically built to dispose common wastes such as food scraps, paper and plastic.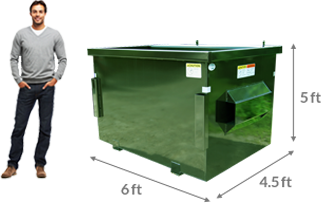 The dumpster above is an example of a 4 yarder and is commonly used at mid-sized restaurants or small-medium sized retail spaces. Depending on the traffic of your waste stream, this size usually requires a weekly or biweekly pickup. Most permanent dumpsters are designed with a flat lidded top. However, some manufacturers build dumpsters with a slanted top to make taller dumpsters easier to load.
The second dumpster category is temporary and these are commonly used for one time projects like construction or demolition, junk removal and cleanup. You can find these dumpsters on residential property for home renovations or construction sites for an average size project. These dumpsters come in 10 yards, 20 yards, 30 yards and 40 yards. Temporary dumpsters are essential for disposing brick, drywall, concrete and other heavy debris. These dumpsters are only used during a short period of time. Most dumpster rental services allow you to keep these dumpsters for 10-14 days or until you are finished with your project.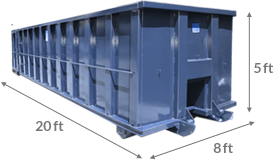 The image above is an example of a 30 yard. These are commonly used for large home or office cleanups, landscaping, and medium-large construction projects. This size can hold approximately nine pickup trucks worth of debris. Most manufacturers build these dumpsters with an average height and an accessible side door. You can effortlessly walk-in to dispose your debris or throw your material over the top.
Here's a summary of the main differences between permanent and temporary.
Permanent
Commonly used for grocery stores, restaurants and retailers
On property for a contracted period of time.
Size range: 2 yards, 4 yards, 6 yards and 8 yards.
Disposal for food scraps, paper and plastic.
Temporary
Commonly used for home renovations or construction projects.
On property for 10-14 days or length of project.
Size range: 10 yards, 20 yards, 30 yards and 40 yards.
Disposal for drywall, bricks and concrete.
Whether you are a business or a home owner in need of a dumpster, we hope this gives you a better understanding of the type of dumpster that would be best suited for you.
Tags: temporary, permanent, dumpsters