Welcome to the DumpsterSizes.com blog. If you're venturing around this site then you are most likely in the market for a dumpster. This convenient site will help you determine the right type of dumpster and size based on your unique needs. Our blog is also here to provide you with helpful posts discussing dumpsters and their uses, environmental awareness, and other eco-friendly topics. If you're in the construction or landscaping business, or just the guy next door who is remodeling his home, DumpsterSizes.com is the site for you.
Categories of Dumpsters
Temporary
We consider dumpsters to be in two categories; temporary and permanent. Temporary dumpsters are typically used by homeowners for junk removal and cleanup as well as contractors for construction or demolition projects. There are four sizes you can choose from for temporary dumpsters: 10 yard, 20 yard, 30 yard, and 40 yard.
Here is an example of a 20 yard dumpster: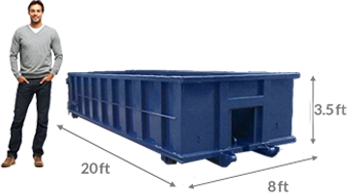 This size is the most common because it can handle large quantities of debris for mid-sized home remodels and small construction projects without taking up too much space.
Permanent
If you are a business or property owner you will want to use a permanent dumpster. These are typically for scheduled and regular trash service. These dumpsters usually accommodate retailers, restaurants and any other place that has a moderate amount of traffic. These are a bit smaller than temporary dumpsters and are typically available in 2 yard, 4 yard, 6 yard, and 8 yard sizes.
Here is an example of a 4 yard dumpster: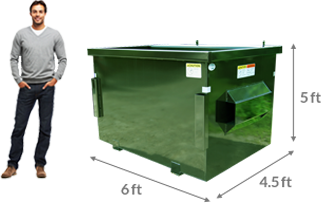 This dumpster is best suited for a company with up to 125 employees or one that generally produces a large amount of waste necessitating at least a weekly pickup.
What's the Best Dumpster for You?
By now you have categorized yourself as a temporary or permanent dumpster user. Next you must consider the type of debris you will be throwing away. If you are a homeowner remodeling a room, you may be disposing drywall, timber, metals or furniture. If you are a business and property owner your waste may include food or general refuse from your office space, or occasional bulky materials such as desks and appliances. An integral step of the dumpster process is determining the weight of your debris. Every dumpster size has its own weight limit. By determining the weight, you can establish the best size dumpster for you.
Does the Size Fit Me?
You are one step closer to determining the right dumpster for you. So far you have chosen either temporary or permanent, you considered the weight of your debris, now it is time to determine the size of the dumpster. When deciding a size, there are a couple of important factors to consider. You must determine the location of where you are placing the dumpster and if there is adequate space to work with. If you are a homeowner, it is common to place the temporary dumpster on your driveway. However, if you have a smaller driveway, you must consider other options for placement. If you are a business owner, you must consider the feasibility for garbage trucks and access for parking spots for customers.
This is just a brief introduction to Dumpstersizes.com. As you continue looking around the site, you will see there is more valuable information to learn. Be sure to look further into our in-depth articles on each common dumpster size as well as examples of projects you can do with each roll off dumpster.