Before you even start a major remodel or renovation project, you must first consider how you will get rid of the waste you will accumulate. Determining the best method for waste removal depends upon how much waste you will have at the end of your project and what type of waste you have. If you are planning to remodel or renovate more than one room or a large home or building, you may want to consider more than one dumpster or even a permanent dumpster.
First things first, how large is your project? To answer this question, you must be honest with yourself. If you are planning a garage cleanout, take a look into your garage and visualize what items you will need to throw out. If you think it will take you about three pickup truck loads of trash to clean out your garage, then a 10 yard dumpster may be your perfect option. For every three extra pickup truck loads add ten yards to the dumpster size. So, if you have about six pickup truck loads of trash you will need a 20 yard dumpster and so on. This technique of measuring is not exact but it can help you get a pretty close guess for household materials.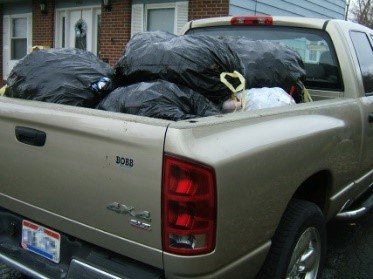 When it comes to tossing out heavy materials such as concrete, there is a whole different way for determining the size dumpster you will need. Most dumpsters have a specified weight limit attached and if you were to fill a dumpster full of concrete, that weight limit would be exceeded. On average, a 20 yard dumpster has a 3,000 pound weight limit and 100 square feet of concrete that is about 5 inches thick has the estimated weight of around 3,000 pounds. Often, heavy debris should only fill half of the dumpster, to make sure the container will not go overweight. An overweight dumpster can sometimes damage trucks and driveways.
Once you have determined which size container you will need for waste removal, you need to know how to fill it. Surprisingly more goes into the filling process than you may have thought. When it comes to filling the dumpster, there are correct and incorrect ways to place your items in the open-top container. First, if you have extremely heavy items such as a couch, you will want to make sure you get a dumpster with a side door. A side door allows you to walk heavy items into the container without having to throw it over the top. You can also use this side door to wheel other items in on a wheel barrel. This door helps to fill the dumpster evenly and use the space in your container more efficiently.
Another tip to keep in mind when you are filling your waste container is to remember that most companies cannot collect an overfilled dumpster and they will normally charge a fee for overfilled dumpsters. If you find you have too much waste for your container, it is cost effective to either rent another dumpster or leave that trash for your weekly trash pickup. Overfilled charges can be a greater price than you may have expected. Most dumpster rental companies cannot pick up a dumpster that has items sticking out of the top or hanging off the sides, because it poses a harm to other drivers on the road.
So, before you tackle your next home remodel or renovation project, consider how you will get rid of your waste. Keep in mind that the most cost effective way may be to rent a dumpster. When it comes to renting a dumpster, first decide what size you will need based upon the amount of trash you have and then what types of debris you will be throwing out. Please keep in mind the proper filling guidelines and remember to never throw hazardous waste into dumpster rentals. I hope these disposal tips have made you more informed about the proper etiquette for disposing of household and construction waste.
Tags: waste disposal tips