If you are looking for a permanent dumpster you are probably managing a business or another type of property. You will need a disposal service that can accommodate the daily, weekly or monthly disposal needs of your business or property. Permanent dumpsters are designed to handle a continuous volume of waste. Depending on the size of your business and the waste you are disposing will determine the size dumpster you will use.
Here is some information about the various sizes of permanent dumpsters you can choose from.
We begin with the smallest size dumpster. A typical 2 yarder is 3 feet long, 3 feet in height, and 6 feet wide. This size dumpster is commonly used by small business owners who have fewer employees, thus producing less waste. You typically see this size behind strip malls, small medical clinics or down alleyways accompanying small shops. In this type of setting the 2 yarder is only suitable for municipal solid waste and has a weight capacity of 400 lbs. So if you have a low volume of waste such as food scraps, plastic and paper waste, this would be the dumpster size for you.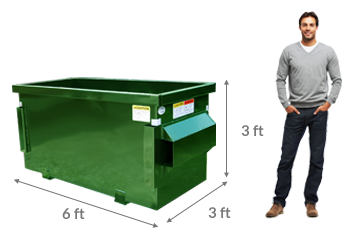 The next largest size for permanent waste pickup is a 4 yard dumpster. A typical 4 yarder is 4 feet long, 5 feet in height and 6 feet wide. It has a weight limit of 800 lbs. which can hold twice as much as a 2 yarder. This dumpster is commonly used for businesses that have about 100 employees. Mid-sized restaurants and retailers with less than 5,000 square feet of space are also common users. These users may benefit the most from this dumpster size because it falls between the small and largest permanent dumpster. Restaurants that produce a larger volume of waste will need at least a weekly pickup for this size dumpster.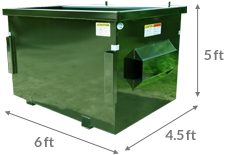 This dumpster is most suited for grocery stores, large retail spaces and companies of up to 275 employees. An average 6 yarder is 6 feet high, 5 feet long and 6 feet wide. This container's total weight capacity is 1200 lbs. Due to its extra height and length it needs additional consideration when deciding where to place it. This 6 yarder is ideal for grocery stores that remove expired food items on a daily basis which would have a heavy and continuous waste stream compared to other businesses. This size is also commonly used for office buildings that accumulate a lot of paper waste.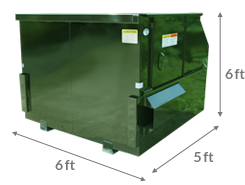 The largest permanent dumpster size that is offered by waste removal services is an 8 yarder. It has an average height of 7 feet, length of 6 feet and a width of 6 feet. Its common users include large restaurants, medical facilities and warehouses with up to 525 employees. The maximum weight limit is between 1800-200lbs. and you should also require extra space due to the volume of this dumpster. Restaurants produce nearly 3,000 pounds of garbage every week. The extensive volume of this dumpster is ideal for that kind of waste stream. It is also a good fit for office buildings with up 525 employees that have a large volume of paper, plastic and the occasional bulky items like chairs and desks.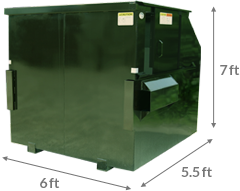 Tags: Permanent dumpster, waste stream, monthly disposal