Whether or not you will need a roll off dumpster for your home cleanup depends on how much stuff you're going to get rid of. We certainly think having a dumpster on site makes the cleanup process go a lot faster. (Maybe we're a little biased… we love dumpsters!) It keeps everything moving forward and removes a lot of the potential stress from such a large project. Try to imagine how much you think you will be throwing out. Could everything combined fill the back of a pick-up truck three times? If so, your best bet is to go ahead and get a dumpster on site. You'll be glad you were prepared when you start having bags of items and you don't know where to put them all!
If you're just doing a small cleanup, maybe cleaning out your bedroom or finally organizing your bathroom and kitchen, a dumpster is probably not for you. If you're serious about your home cleanup, whether you're tackling some much needed spring cleaning or you're getting ready to pack up for a big move, getting a roll off dumpster could be the way to go.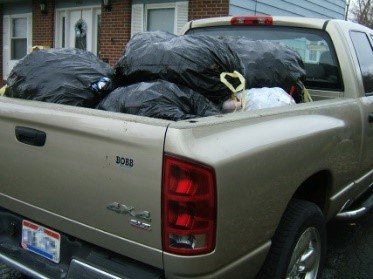 If you do decide a dumpster is right for your project, you then need to decide which size will be best for you. Most people who get a dumpster for a basic home cleanup choose the one with a volume of 10 cubic yards. This size is great for average home waste removal, such as an attic cleanup or a garage cleanout. You should be mindful of the dimensions of the dumpster and not just the volume it can hold.
Before the dumpster can be picked up, a cover is often rolled over the top for safety precautions. When this is the case, no items can be hanging off or be taller than the sides of the dumpster in order for it to be safely hauled over the road. Without this cover, items could go flying all over the road and cause extremely dangerous situations. If you have any very large or very heavy items that cannot be broken down and confined within the sides of the 10 yarder, you should consider upgrading to the next largest size. Ask your local hauler on size recommendations if you are unsure about what to go with. Your hauler will not pick up the dumpster under dangerous conditions, so it is better to be safe than sorry.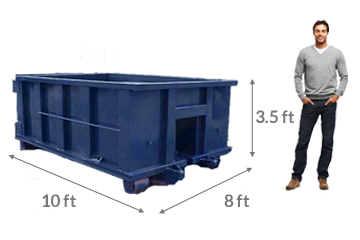 After you decide you need a dumpster rental and have picked out the size that is best for you, you can call up your local hauler. It's a good idea to have the dumpster there when you start the cleanup, because otherwise, you will quickly have piles of unwanted items scattered all over your house and nowhere to put them.
We recommend having your dumpster delivered the day before you plan to start, so you can be sure it will be there waiting for you the day you are ready. Throw things out as you work your way through the cleanup. That will help to keep your work are clear and uncluttered, enabling you to easily see what still needs to get done. Renting a dumpster will give you that little push you needed to finally initiate your cleanup project.
Tags: cleanup, dumpster rental, temporary, roll off